You can set and adjust your leverage using the leverage slider in Your Position widget on the left side of Trade page: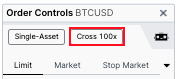 By default, it will be set to Cross, however, once you change it, it will remain on what you've set until you exit your position. Once your position is closed, it will automatically revert back to Cross shortly after.
Changing your leverage here will instantly update your leverage on your open position. If you increase your leverage, you reduce the amount of margin assigned to your position and that balance goes back to your Available Balance. Equally, if you decrease leverage, you increase the margin assigned to your position and it will be taken from your Available Balance.
To learn about the difference between Cross and Isolated Margin (1x-100x), please have a look at our Isolated and Cross Margin guide.